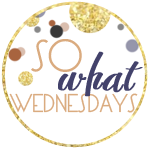 This week, I'm saying SO WHAT if...
When we came home from an appointment Monday evening and I heard the baby crying from outside the house, I wanted to go back to the car just for a little bit. This past week has been one of the hardest since having Matthew home.
I bit the bullet and bought a plane ticket to get Matthew and I out to CA next month. If my mom won't come to me, I guess we'll just have to go to her!
We're not cloth diapering for a while. We were gifted about 600-700 size 1 diapers and already had about 100 or so that we had purchased as back up. I'm not sure we'll even be able to use all of them!
I've been binge-eating sweets and forgetting to eat regular meals. It's getting better, but the stress has been so overwhelming these past couple of weeks.
My kid HATES hypoallergenic formulas. He vomited the $45 Elecare up within the first two ounces. He must know that mom and dad like to save money and can't afford a formula that would cost $500 per month!
Matthew isn't smiling just yet. He's so close and every now and then he does, but not regularly.
I love that my baby likes to sleep! Of course, he does best swaddled so he doesn't startle himself awake, but then he's good to go!
I call the formula companies asking for coupons! I'm not shy and formula is expensive.