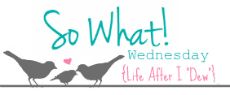 This week I'm saying So What if...
I ate dessert for breakfast yesterday. I wasn't hungry enough to eat a meal and it was amazing.

We had a hodge podge for dinner yesterday. Bean and cheese burritos and chili cheese fries hit the spot.

I only feel like an adult when we're doing adult things like going to Home Depot or dressing up for events.

I reminded my husband not to turn on the tv until he was ready for bed. We're on a tv diet and he really needs to get more sleep. Going to bed at 11pm and waking up at 3:50am is not the best idea.

I finished another book and am considering buying a Nook or Kindle. My husband will insist I go the the library because it's free.

I finished my in-laws quilt top in a weekend, but I've been slacking on adding the borders. It's a Christmas present, so I have time!

I refuse to swim in the community pool when there are tons of people there. I don't like splashing and I like to be able to move in the water without hitting someone.