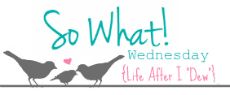 This week I'm linking up with
Shannon
over at L.A.I.D. for So What Wednesday.
This week, I'm saying so what if...
We decided that I'm not going back to work in the fall like we planned. I'm saving money by being at home and love my "new" job.

I love Mexican food and eat it multiple times a week. Hey, at least I make it at home!

I like to have long phone dates with friends. Sometimes this means that I don't get as much done, but it's so nice to catch up.

I have baby fever. I'm turning twenty-eight soon and I'm married. Plus, my husband is really good looking so I can't wait to have his babies.

I wanted to eat our wedding cake for breakfast on our anniversary. It didn't work out, but is was a great idea.