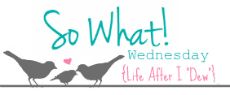 Linking up with
Shannon
this week for So What Wednesday.
This week I'm saying So What if....
I try to make sure our apartment is picked up just enough before my mother-in-law gets here. It usually happens last minute, but I try.

I want to know what's in the water that all of my friends are drinking? In the past month or two there have been at least 8 people announcing their pregnancies or having babies. Could someone send me some of that water, please?

I get annoyed when friends are late coming over and don't call or text to let me know. I usually will have dinner or lunch ready and it's not fun to have to sit there, wait, and watch it get cold, especially when I'm hungry.

I get more business from family and friends from my Etsy shop. There are so many people on Etsy, it's hard to have your product always show up in the searches.

I have no idea how to "market" my business on Etsy. Can someone help a sister out?

I'm trying to get my sister to come out here to visit in December. She wants to come, but I'm a planner and would like to be able to plan things ahead of time.

I love Febreeze. There, I said it. I like how it makes everything smell fresh and has a lovely, light scent.