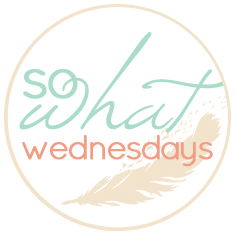 This week, I'm saying So What if...
I am obsessed with watching "I Didn't Know I Was Pregnant" and "Extreme Couponing." Oh and I totally miss couponing.
We're not decorating a nursery for the baby. We live with my in-laws and it might be for quite a while so until we have the space, we're making due.
I see cute cloth diapers and want to buy them. Of course, I only do if it's a great deal, but I'm really wanting to complete my stash.
I freaked out yesterday when I didn't feel the baby move after the glucose drink. I mean, I don't feel him move daily yet so it's not a problem, but I really thought he would have been more active after all that glucose. I felt him later that day so that made me feel better.
Most days I lounge around unless I need to get out of the house for something. I don't have a lot to do since we're living with his parents.
I still haven't sewn much for the show next weekend. Oh well, I'll go with what I have done and not have too much left over!
I'm focusing on making boy things in case we don't sell much. Then, I can use what I've made without having a ton of things in storage.
I still can't handle cooked green vegetables. It's a texture issue.