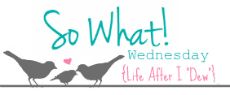 This week I'm saying So What if...
I was really upset that my friend cancelled our gym date ONE hour before we were supposed to go!

I only worked out for 12 minutes. I didn't feel well and I was still upset.

I picked up this little beauty at Target for $3.76!
I made my husband listen to Christmas music last night. It makes me happy :)

I scared my husband in the kitchen and thought it was so funny that I was on the floor laughing so hard.

My stomach was still sore from laughing when I went to bed!

Sometimes I let my hair air dry without brushing it and put it in a top knot. I like how it looks when it's more wavy and it's hard to get it that way.