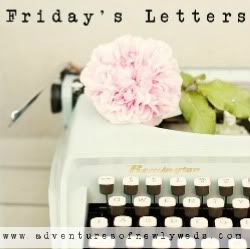 Dear Allstate... Thank you for getting my claim done so quickly. I can't wait to go get the diamond in my engagement ring replaced next week! I am also happy that I was able to talk to a different adjuster who made it possible to go through my jeweler, not some place that never called me back.
Dear One Tree Hill... I just started watching you on Netflix a few weeks ago and I have to say that it has provided me with so much entertainment. I can't wait for the final season to get on Netflix so that when I'm finished with these, I can watch it.
Dear Mom... I am so happy you called me back last night, but I couldn't pick up the phone because it was time for bed and I had to be up super early to take Phil to work. I realize you live on the West Coast, but the three hour time difference does exist and when you are done with dinner, I'm going to bed. I love you anyways and will call you today.
Dear Brother 1034d Serger... you are the newest and most awesome addition to my sewing room. I got you yesterday and breezed through threading and making some new products. You are amazing and it was a great purchase.