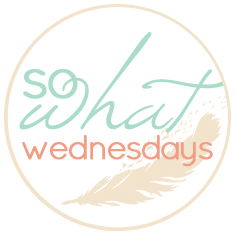 This week, I'm saying SO WHAT if...
We know the sex of the baby and want to keep it off facebook for a little while. I'll be posting a blog soon.
I haven't been sewing a lot and really need to. I have a show coming up in only three weeks!
I only want to sew for our baby and not the show. There, I said it. I'm just really want to look at cute things and make some fun stuff.
It's my birthday and for once I don't feel the need to shout it from the roof-top. Sure, it's great, but it just feels like another day this year.
I still have 5-ish months to go until we meet our baby and that seems like so long. Seriously, we both feel like it's already been so long and there's 23.5 weeks left!
I'm only 16 weeks and I am super round. At least there's a reason and I'm happy to be looking pregnant!