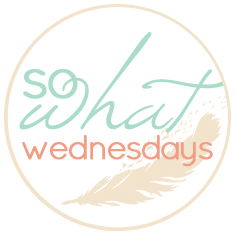 This week, I'm saying So What if...
I said I wasn't going to AWANA tonight, but I probably will be. I was super sick yesterday and feel fine today, but I'm worried about the stress.
I haven't sewn the things I volunteered to do for the church Easter play and they're due tonight. I was set up to do it yesterday, but that was a no-go.
My doctor yesterday didn't bring up me being on pelvic rest so I asked if we could resume normal activities. I may or may not have told him that my husband is a patient man, but I am less impatient!
I still haven't started sewing for my craft show in two weeks. It's going to be a long, exhausting two weeks I guess.
I can't wait until our pack and play get here! Gram ordered it for us since she loves the quilt I made her so much.
Walmart.com
We're probably not getting a house before the baby gets here. We're saving quickly, but there's no way to come up with what we need left overnight. At least my in-laws are being super great and supportive!
I think I got sick because of all of the crap food I had eaten on Monday. It was a hodge podge of everything and it didn't seem to settle well.