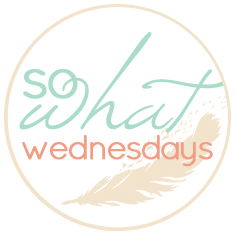 This week, I'm saying SO WHAT if...
When the doctor told me that I had to be on pelvic rest for the next two weeks I was not thrilled. *Pelvic rest is total abstinence to not irritate the cervix and cause more spotting*
We got the ultrasound pictures from the hospital and tried to see if we could find out the sex of the baby. No dice.
Tomorrow is my night to make dinner and we bought baked potato cheddar soup from Bob Evans to reheat.
My birthday is next week and the only present I asked for was for my mom to pay for the early gender scan.
Since I'm only allowed to take it easy, I've been sitting/lying around watching movies and shows all day.
I love watching the Duggars. I think they're great and set a good example. They seem to do well with their businesses, take care of their family, and their kids aren't hooligans.
I can't decide on which detergent to use with cloth diapering. I don't want something super expensive...any suggestions?